8th GRADE PICK UP PROMOTION CERTIFICATE BY WAY OF DRIVE-THROUGH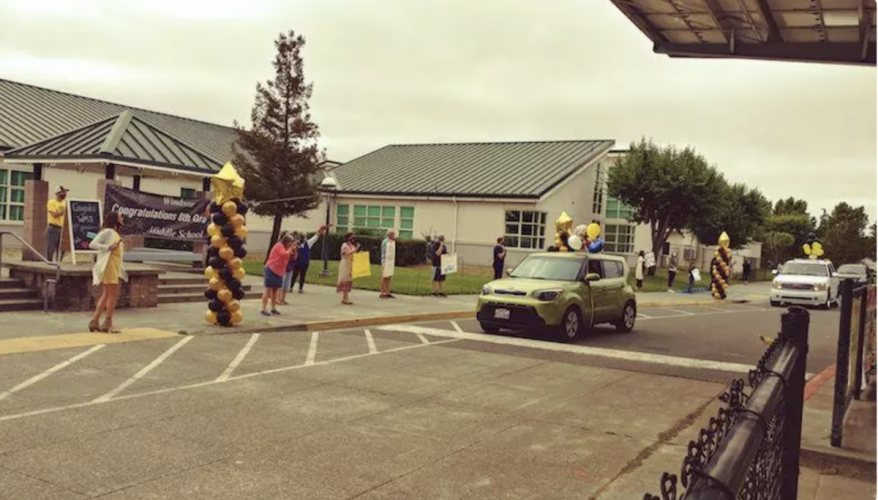 8th GRADE PICK UP PROMOTION CERTIFICATE (UTILIZING THE DRIVE-THROUGH PROCESS)
EXPECTATIONS and PROCEDURES
WEDNESDAY, JUNE 10 @ 1:00 PM to 3:00 PM
Our 8th graders have missed out on so many end-of-year events that teachers and staff wanted to do something special during this COVID-19 time. After much planning and final approval, please join us for our 8th Grade PICK UP PROMOTION CERTIFICATE DAY on Wednesday, June 10, 2020. To prevent the spread of the coronavirus in our community, DRIVE THROUGH PROCESS is our best option. Safety is always our top priority, so it is important that we work together to make this a safe but fun event for all.
THE PICK-UP ⬩ STAFF PARKING LOT
As you enter our parking lot, students will be asked their name. To help the flow of traffic, if possible, write your child's first and last name in LARGE letters on notebook paper. Post it on the window of the passenger side where it is visible. If this is not possible, pull up to the next station where we will print your child's name. This will help teachers and staff know who is in the car and send a shout-out! Bring your student ID to help with our staff with spelling.
As you proceed to the next station, your child will have their name called out on the microphone as you drive through the parking lot.
We ask that the promoting student be seated in the passenger side of the vehicle. It will make it easier to pick-up the Promotion certificate when you drive to the pick-up station.
Finally, at the last station your child will have their photo taken while they REMAIN in the vehicle. Once again, please do not get out of the car at any time.
SAFETY RULES AND GUIDELINES
~Please enter in the staff parking lot and EXIT RIGHT onto Cuny Avenue only.
~A minimum of 6 feet between vehicles at all times.
~Each vehicle must contain only members of the same household (one carload per student).
~Everyone is required to stay in their vehicles at all times.
~Wear a mask when communicating with staff and teachers.
~No public restrooms will be available.
All 8th grade students will receive a promotion certificate. This is an 8th grade event only as we have 350 students to serve this day during this short time. Thank you for your support. Due to limited staff for our Drive-Through Promotion, we can only accommodate WALKERS after 3 PM. Please wear a mask when approaching the table set-up by the handicap sign in front of the school. Remember to follow social distancing rules by staying 6 feet apart from other families.
In an earlier communication, please NOTE the change that PE clothes WILL NOT be handed out on this day, June 10. Refer to our PE Clothes Pick-Up document for dates. Our primary focus will be Promotion. Also, laptops will REMAIN with all 8th grade students over the summer and will be expected to take them to high school. If your family is MOVING and your child WILL NOT be attending a school in Sac City Unified School District, please email Mr. Vue at Johnny-Vue@scusd.edu for check-out papers and bring your computer with you.
VIRTUAL PROMOTION CEREMONY ⬩ THURSDAY, JUNE 11 @ 10:00 AM
On the last day of school, we will be releasing our Virtual Promotion video on Google Classroom. Please know all students will be acknowledged with their yearbook picture and name. The link will only be sent to Fern Bacon students. Students have been working hard on speeches and special quotes to capture this historic moment in time. Call the office at (916) 395-5340 if you DO NOT wish to participate in this video by the DEADLINE of Sunday, June 7. Leave your first and last name telling us you do not want to be acknowledged in the video. You may also email our office staff, Ms. Sarah at Sarah-Castro@scusd.edu or Mrs. Renda at Arwen-Renda@scusd.edu.
Please be prepared for traffic, so bring your patience with you. We miss our students and thought this would be an enjoyable but safe way to acknowledge this milestone. With your support of adhering to all safety precautions and guidelines, we can make this a successful event for all Fern Bacon Middle School students and families.