Fern Bacon's City Year Program Ranks Highly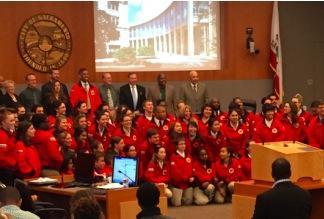 March 23, 2015
City Year, a nonprofit organization that provides "near-peer" mentors to five SCUSD schools — Fern Bacon, Oak Ridge, Father Keith B. Kenny, Rosa Parks and Leataata Floyd — was recognized on March 18 by the Sacramento City Council.
During the City Council presentation, City Year shared that 70 percent of Fern Bacon students receiving targeted interventions from a City Year member improved to a 2.0 GPA or better. In comparison to 24 sister sites across the country, City Year Sacramento at Fern Bacon ranks highest in literacy academic results.
City Year is an education-focused nonprofit organization that partners with high need public schools to provide full-time targeted student interventions.
In communities across the United States and through two international affiliates, City Year's teams of 17- to 24-year-old AmeriCorps members support students by focusing on attendance, behavior and course performance through in-class support, 1-on-1 and small group tutoring, mentoring and after school programs that keep kids in school and on track to success.
The organization's culture emphasizes the values of leadership, diversity and community service.