Who is Fern Bacon?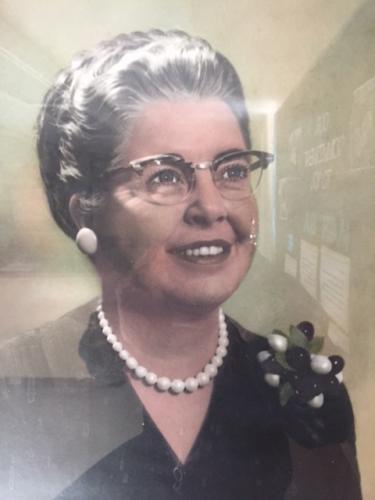 Fern Huston Bacon, one of this area's leading women educators, was a person of many accomplishments. She was not only an excellent administrator and teacher, but quoting from an article in the Sacramento Bee at the time of her retirement in March 1965, "If Fern Bacon had not spent 40 years teaching children and building schools in the Pacific School District, she might have been an accomplished pianist, a registered nurse, a champion skier or even a pretty good cowpoke on a California Ranch".
Fern's main career was as an educator, but she was equally efficient in many other activities. She loved the outdoors and, as both she and her husband, Devere, whom she married in 1928, were both educators, they were able to spend their vacations at their cabin at Wright's Lake. This gave them the opportunity to ski in the winter and fish and take part in cattle drives in the summer. Fern helped with the cattle while Devere, who was a good cook, drove the chuck wagon and cooked for the crew. They both looked forward to these cattle drives. Fern was an excellent horsewoman and loved working with cattle, while Devere took great pride in his cooking. Fern Huston was born in Medford, Oregon, in 1903. When she was 10 years old, her family moved to Briggs, California. After graduating from high school, Fern was undecided as to what career she would follow. She considered being a teacher, a nurse, or a piano teacher. Finally, her father persuaded her to go into teaching because he thought it offered more security.
She took his advice and enrolled at Chico Normal School, now known as Chico State. After graduation, she taught for a short time at Weed, California, before moving to Sacramento. Here she was hired to teach fourth grade at Pacific School, where she spent 40 years as a teacher, principal, and shortly, as District Superintendent. It is interesting to note that she taught that fourth grade class all the way through the eighth grade.
In 1928 Fern Married Devere Bacon, who later became Principal of Crocker Elementary School in the Sacramento City Unified School District. Mrs. Bacon, besides her duties at Pacific, became involved in many of the social activities at Crocker, where she was help in high esteem by the Crocker School staff. In 1931, Mrs. Bacon became Teaching Principal at Pacific School, which was a five-teacher school. At the time, the district was all farmland, which could be purchased for $10 an acre. Also at that same time, the northern part of the district was growing. In 1925 and 1926, a new school was planned and built on Franklin Boulevard, near 14th Avenue. It was named Junior Pacific.
Many changes were occurring in the district. Small businesses developed along Franklin Blvd, large farms were divided into smaller acreages, and finally when Campbell Soup Company built a plant on Franklin Blvd, many new families moved into the area. As the district continued to grow, it was evident that new schools would be needed and Mrs. Bacon, with the Board of Trustees, was very active in carrying out this research. In 1947, it was decided that a new Pacific School should be built. It opened in the spring of 1949. It was then that Mrs. Bacon was named Principal and District Superintendent. Woodbine and Parkway were built in the early 50's and in 1955 Clayton B. Wire was opened. There were now five schools under Mrs. Bacon's jurisdiction. In 1958, Pacific District was annexed to the Sacramento City Unified School District, and Mrs. Bacon was again Principal of Pacific Elementary School. In the middle 50's, a new junior high school was named in her honor. It is now called Fern Bacon Middle School.
Mrs. Bacon retired in 1965. During her years at Pacific, there was a close working relationship between Mrs. Bacon, the Board of Trustees and their families. For that reason, they were all well aware of the school's developments and the needs of the children. Many of the members of the community, who had formally attended the school, later worked there in some capacity or another, even as teachers. They all remember her as a good friend. Unlike many teachers who used the county schools as stepping stones to better positions in larger school districts, Mrs. Bacon put all her energy into improving the little two-room school until it grew into a large, well-known district, of which she became the District's Superintendent. This was greatly appreciated by her community. The following is quoted from the program on the occasion of Mrs. Bacon's retirement party: "Fern Bacon has the love and loyalty of the teachers with whom she has worked over the years. Many a teacher feels personally enriched for the privilege of having taught under her. One and all honor her for her personal warmth and charm, energy, friendliness, devotion to the children and dedication to the goals of education."