English Language Arts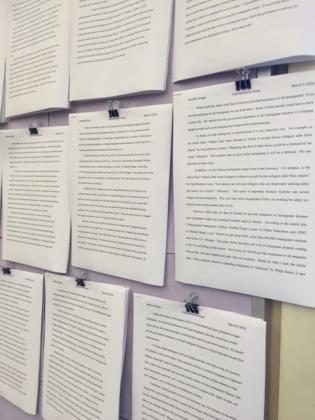 Fern Bacon Middle School offers classes at Advanced Levels (GATE) and PLUS classes for students who need additional instructional support.
Students at Fern Bacon use multiple novels and non-fiction articles tied to real world current events to explore the Common Core Standards with teachers focusing on critical thinking, research and providing evidence to support their ideas and completing text-based questions and essay. In addition, throughout the course of the year, all students will write every day leading to high quality essays and performance tasks at the end of every unit.
Lastly, every classroom has access to a class set of laptops used in classrooms for research, creating videos for lessons, sharing work with peers, editing and much, much more.
Los estudiantes de Fern Bacon utilizar varias novelas y no-ficción los artículos vinculados a mundo real eventos actuales para explorar las normas fundamentales comunes con los maestros centradas en el pensamiento crítico, la investigación y la evidencia para apoyar sus ideas y completar texto las preguntas y ensayo. Además, en el transcurso del año, todos los estudiantes escribir todos los días de alta calidad ensayos y tareas de rendimiento al final de cada unidad.
Fern Bacon ofrece clases de nivel avanzado (GATE) y cursos para los estudiantes que necesitan apoyo. Todos los estudiantes mantener una cartera que se utiliza como un reflejo herramienta para que los estudiantes de crear objetivos, crear fases de acción a fin de lograr esos objetivos y, a continuación, reflexionar sobre terminación de esos objetivos. Por lo tanto, preparar todos los estudiantes de la escuela secundaria y a la universidad y la carrera.
Por último, cada una de las aulas tiene acceso a una clase de ordenadores portátiles usados en las aulas para la investigación, crear vídeos para las lecciones, compartir el trabajo con los compañeros, edición y mucho más.